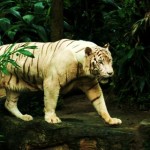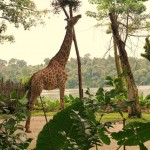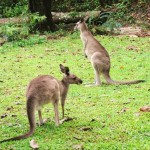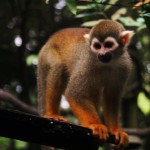 We recently had the pleasure of visiting Singapore's world class zoo. Not all zoos are worth visiting, however, this is one that should NOT be missed if you are visiting Singapore. Home to over 2,500 animals from 315 species, the zoo has an international reputation for its breeding programmes and conservation initiatives. In fact, 29% of the species represented at the zoo are threatened in their natural environment.
Set against a rainforest backdrop, the zoo is open concept and offers great opportunities to get up close and learn about the animals: it feels like you're having a leisurely afternoon stroll through an exotic jungle! The displays are large and landscaped to suit each animal's natural environment. So much so, that we had to actively encourage our 18-month old to look beyond the educational photos on the display case (which she thought were pretty special) and seek out the 'real' animal. To enhance the up close and personal experience, visitors are separated from the animals by either dry or wet moats which are concealed with vegetation. In the case of the more dangerous animals, floor to ceiling glass fronted enclosures are used.
The zoo also has the neighbouring Night Safari which unfortunately we did not have the chance to visit, though it is definitely top of my list for when we return.
For more information: www.zoo.com.sg
About