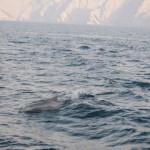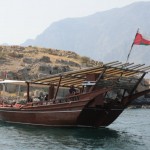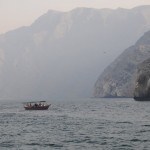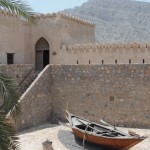 If you are looking for a great overnight trip, or even day trip, to do with kids from Dubai, the Musandam Peninsula in Oman is a fantastic escape from the hustle and bustle of Dubai. There is endless sunshine and it's a beautiful coastal drive along the twisty peninsular road with incredible views of untouched stretches of beach and steep mountainous rocky cliffs (you can even spot the odd goat perched precariously on the side). It is roughly a 3 hour drive from Dubai and includes an international border crossing so you need to be prepared with your passport and any other relevant documentation, such as car insurance and registration.  Also, if you're hiring a car you need to make sure that you can take it into Oman. Some hire companies do not allow for this because they do not offer Omani insurance.
We recently visited with our 1 year old and stayed at the Golden Tulip just outside of Khasab, which is fairly reasonable priced and has great facilities for young children as well as warm Omani hospitality. It is situated on the sea and has beautiful views of the rugged mountains, which truly are stunning to see. It also has a tour office which can organise your dhow cruise, mountain safari, snorkelling or diving (the resort is home to the only local dive outfit on the peninsula). We chose to do a dhow cruise around the Musandam Fjords which I highly recommend, it is a great way to see the area – little villages and forts nestled into rocky mountains, beautiful blue water and we even had the pleasure of spotting a couple of dolphins! My daughter loved the dhow ride, she was able to crawl all over the boat and explore.  She eventually took a shine to the dhow driver and spent the rest of the trip by his side, much to his amusement.
Anyone familiar with the region would know that the temperature reaches extremes during the summer months (June through to mid-September) and can make travel with children very uncomfortable. I would recommend travelling to Oman during the cooler months. However, if you're willing to brave the BBQ, tourism in the area is low during the summer months and you may get a fabulous deal.
For further information on Oman, check out www.omantourism.gov.om
About