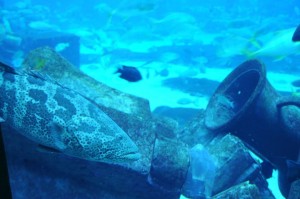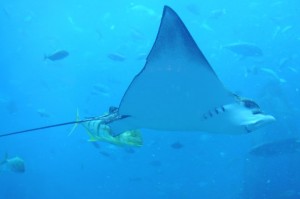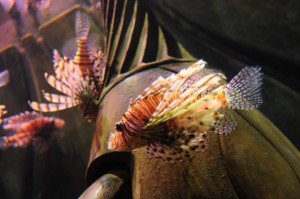 My husband is an avid diver and loves all things related to marine life. As a result, we have spent time at aquariums scattered across the globe. We are very fortunate that Dubai has two of the most outstanding aquariums that we have visited. Our toddler adores both of these aquariums and they're a must see if visiting Dubai.
The Dubai Mall Aquarium & Underwater Zoo
Plonked right in the middle of the Dubai Mall, the main feature window of the Dubai Mall Aquarium is truly astonishing to stumble across (it is the world's largest aquarium viewing panel!). The tank holds approximately 10 million litres of water (that's over 100,000 bathtubs) and an impressively diverse collection of marine life. The tank is teeming with 33,000 aquatic animals, including over 400 sharks and rays (as well as the the odd scuba diver). My toddler truly loves this aquarium and we're unable to visit the mall without at least a walk-by visit. The Aquarium also has an underwater zoo, glass bottomed boat rides, cage snorkelling and for the truly brave – swimming with sharks.
Website: http://www.thedubaiaquarium.com/

The Lost Chambers Aquarium, Atlantis
The Lost Chambers Aquarium is located at the prestigious Atlantis Hotel  on The Palm. This aquarium is brilliantly themed around the fabled sunken city of Atlantis (obviously). Like the Dubai Mall Aquarium, the main display window is breathtaking, you really do feel like you are peering into the lost city. The Lost Chambers Aquarium is an underground maze of intertwined tunnels with great exhibits that your kids can get up close to. Over 65,000 marine animals call Atlantis home. There are also lots of other fun activities nearby at Aquaventure and Dolphin Bay, including the infamous 'Leap of Faith', a waterslide ride with a near vertical drop into a shark filled lagoon (perhaps not one for toddlers, or even mummies for that matter!)
Website: http://www.atlantisthepalm.com/marineandwaterpark/thelostchambers.aspx
About