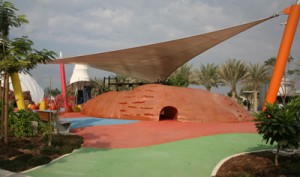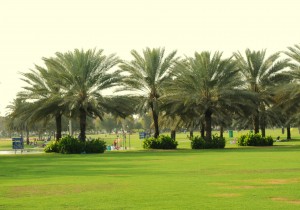 There is nothing like a good outdoor space to let the small people run free, and who would think that a desert city like Dubai would have such fantastic parks – but it does!  And they are lush and green! So while the weather is cool and before the hot summer scorch begins, I like to make the most of these great outdoor spaces.  It is the ideal way to spend a morning or afternoon with my little people.   My three favourite parks are:
Zabeel Park
Bordering on the Royal Palace this is perhaps the most picturesque of Dubai's parks. It also my favourite outdoor play area for my toddler. It has a great outdoor play structure that is partially under shade cloth, so my little people are protected from the sun even during the hottest hours of the day but it is especially pretty at sundown. BBQ and picnic areas are also nearby as well as a train ride, bike hire, boat hire and camel rides. 
Location: Is situated on both sides of the Sheikh Zayed highway heading towards Zabeel.
Hours: Sun/Wed 8 am – 11 pm, Thurs/Sat 8 a.m. -11:30 pm
Cost: 5dhs
Creek Park
This park is built on the banks of the Dubai Creek and is the 2nd biggest park in Dubai. It includes the Dolphinarium, Children's City, a cable car, bike hire, as well as a scattering of playgrounds and bbq/picnic areas. So LOTS to keep your small person entertained. My small person typically likes to sit in the sandpit here and coat herself and all surrounding her with layers of sand!
Location: Bur Dubai, between Al Maktoum and Al Gharoud Bridge
Hours: Daily: 8 am-12 midnight, Fri & Sat: 2 pm-8:30 pm. Wednesday is ladies day.
Cost: 5dhs
Safa Park
This park is a favourite haunt for Western expats, so it can't be left off the list. This is one of Dubai's busier parks, especially at weekends and when the monthly Dubai flea market is taking place. The park has 3 lakes, plenty of grassy lawns (which mostly contain expats playing sports of one kind or another), a mini forest and a scattering of playgrounds.
Location: on one Side Shk Zayed Rd,Between the 2 interchange on Shk. Zayed and Al Wasl Rd
Hours: Sun/Wed 8am – 11pm Thurs/Sat 8am -11:30pm
Cost: 3dhs

Click here for further information on Dubai's Parks.
About