Happy New Year!! My first post of 2012 and it's about time! We decided not to leave the UAE this Christmas break as we were hosting friends from Canada. Instead, we went exploring in the our own backyard and were surprised to discover how much the UAE has to offer. For example, did you know that you can go on a mini safari in the UAE? Last week we had the pleasure of doing just that with our visiting friends and their 4 month old daughter. Our safari destination: the Anantara Desert Island Resort on Sir Bani Yas Island.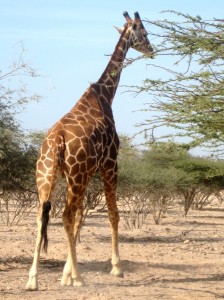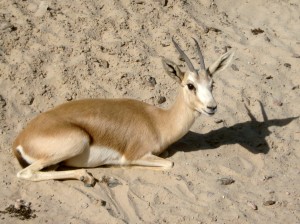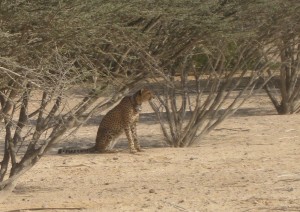 Sir Bani Yas Island is the largest naturally formed island in the UAE and is located in the warm Gulf waters 8km off the shore of the Western region of the Emirate of Abu Dhabi. The island is home to one of Arabia's largest wildlife reserves which was established in 1971 by the late ruler and founding father of the UAE, Sheikh Zayed Bin Sultan Al Nahyan. There are thousands of large free-roaming animals such as oryx, gazelle, deer, ostrich, cheetah and giraffe, as well as several million trees and plants.
Sir Bani Yas Island is roughly 400km from Dubai so it took some considerable time driving with a 2-year-old and two infants. You could probably do the drive in 5 hours but it took us 7 hours door to door (including a 20 minute ferry ride from Jebel Dhanna where we left our car) as there were plenty of stops. But a good few naps and an iPad to entertain our two-year old got us through the drive with not too much fuss. You can also fly via sea plane but we opted for the road hoping to see some desert scenery along the way. We don't often take long car journeys when we holiday as most of  our travel  is via air and as our 2 year old indignantly informed us when we told her we were going on a holiday – 'We're not going on holiday, we're in the car!' Mental note: more driving holidays need to be on the agenda!
The Desert Islands Resort and Spa is a gorgeous 5 star resort and is one of only 2 hotels in the Middle East to make a recent Condé Nast Traveller list of 70 hottest new hotels in the world. It's Arabian in design with understated  opulence. The suites and villas use local fabrics and scattered throughout the complex are original pieces of Middle Eastern art. The biggest plus is – it's a resort that's extremely welcoming and friendly towards kids of all ages. Our suite was to an extremely high standard and it was big enough for the 4 of us, even with 2 cot beds present. Speaking of cot beds, they were fab – safe, sturdy and designed to blend in with the decor of our room (I'm often astounded at the quality of cot beds that are provided even at regular five star chains, they're often poor quality and an eye sore).  We also had a nespresso machine in our room, which I thought was a nice touch (we like our coffee).
The best thing about Sir Bani Yas Island is the amount of activity and entertainment available. In the immediate vicinity of the resort there is the Kid's Club, pool and beach, and beyond that there are adventure safaris, kayaking, mountain biking, archery, hiking and snorkeling. Sir Bani Yas Island also has the only early Christian archaeological site in the UAE, an early Christian monastery dating back to the 6th century AD. Although many of the external activities aren't suitable for very young kids, we were able to take our 2 year old on a wildlife drive which was a highlight of the trip. We got up close to an array of animals including cheetahs, giraffe and the rare Arabian oryx, plus we were able to view the landscape of the island and get a brief history. However, one thing worth mentioning: book your activities before you arrive. We wasted our first day by the pool because all the activities that first day were fully booked.
Overall the trip was a memorable experience and one we would definitely like to repeat.
About