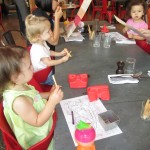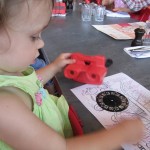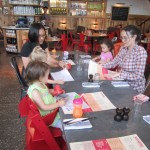 Are you holidaying in Dubai, or living in Dubai, and looking for a nice place to eat where your toddler can also feel welcome?  Well, you're in luck because there are many restaurants in Dubai that will make you feel welcome if you show up with children (kids seem to rule supreme here). I recently had an especially good experience at Jamie Oliver's new establishment Jamie's Italian. We visited with four two-year old girls (a scenario which often hovers on the precipice of disaster) and we were made to feel at home!
We'd booked in advance and on arrival our table including 4 bright red Stokke highchairs was ready – a feat in itself!  More often than not I find that booking in advance at a restaurant does not always mean the highchair will be remembered (does anyone else experience this?). The table was also set with toddlers in mind. The  kids all had activity placemats with crayons, and a quirky element that I loved – the menus were bright red viewfinders. The waiter was attentive and took the kids orders within 5 minutes of sitting down, he also provided them with grissini to chew on and made sure they all had enough to drink. Any parent knows that waiting for a meal while your toddler is hungry can be an horrendous experience. The toddler meals arrived quickly, and hurrah again – suitable cutlery for little people. The food was fresh and tasty all round, and the portion sizes for the kids were perfect.
We had four happy little ladies (well mostly, with the exception of mine who thought sporting a bib while eating spaghetti was far beneath her!). Overall I found the experience to be pleasurable one, in a great environment with happy kids and happy mummies, which doesn't always happen when you're dining out in public with the terrible twos.
Location: Marina Pavilion, Festival City
Website:  www.jamieoliver.com/italian/dubai
Phone: +971 42329969
Update: Jamie's Italian is no longer based at Festival City. It is now at the Jumeirah Beach Hotel.
About