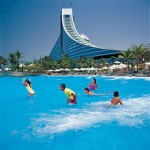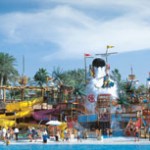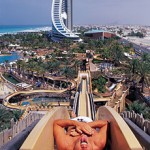 Image source: Jumeirah Media Library
I recently took my 1 year old daughter to Dubai's fantastic water park – Wild Wadi. Located on Jumeirah Beach Rd, right near the Burj Al Arab, this water park is a great day out and a must see if you are visiting Dubai. It doesn't matter what age you are because it offers something for everyone. There are over 30 attractions – you can surf, body board, ride daring water slides, have fun in the largest wave pool in the middle east, take it easy on some of the less daring tube rides or just relax at the many activity stations dappled around the park. The park is cleverly designed around a tale from Arabian folklore featuring Juha and his seafaring friend Sinbad, and the design and attention to detail of the theme is amazing.
The park is particularly good for young children. The wave pool has a very shallow beach area where my daughter was more than happy to paddle and play. There is also an interactive play structure (Juha's Dhow and Lagoon) aimed at young children, it has over one hundred water activities and five colourful slides. I also took my daughter on one of the family friendly tube rides called 'The Lazy River', where we had a great time just drifting along watching the rest of the park go by.
ALSO, mummies (and daddies), if you're brave enough you can get a communal Fish Foot Spa . Sit back and relax (if you dare) while toothless Garra fish safely and gently exfoliate your feet. Nice!
About