There's nothing quite like a good insider travel tip from a likeminded person and that is why I'm excited to introduce a new category for my blog – Toddler Travelogues. Every fortnight (or there about) I will be showcasing a guest post from a travelling parent who will discuss the highs and lows of their recent adventure. There are lots of exciting destinations coming up, with lots of hot tips about travelling with toddlers. 
This opening guest post is from my London-based Australian friend, Melanie Spain, who recently travelled to Marrakech, Morocco, with her husband Tony and their 20-month old Molly. 

Travel
We travelled to Marrakech, Morocco from London the first week of March (2011) with our 20-month-old daughter. The flight was 4-hours long which meant our little one had a sleep at some stage of the flight.  During awake-times she:
ate snacks
read small hard-paged books (I find these easy to fit into my handbag, and they don't get damaged easily)
opened and closed and opened and closed (and opened and closed, etc) the window shade
stacked and re-stacked plastic cups that our attendant provided with our drinks; and
watched her portable DVD player. 
We couldn't do without the portable DVD player, it's been fantastic on all our travels. We always wait until everything else has been exhausted before we even show a glimpse of this because a) it only has a 2-hour battery life, and b) once she sees it she HAS to watch it, and will protest loudly if we put it away. Sometimes we get away with not using it at all, but I have to say that it's been an incredibly worthwhile investment for us.
Hotel
We chose to stay in a Riad, which is a traditional Moroccan house that has been converted into an Inn/B&B We thought this would give us a more unique experience but I would NOT recommend you stay in a Riad with a toddler and encourage you instead to stay in a Western-style hotel. This is because a traditional Riad typically has concrete floors, staircases, unfenced water features and lacks certain creature comforts such as a fridge, TV and, in our case, a decent travel cot, and food with which our toddler was familiar. Following is  a photo of the Riad.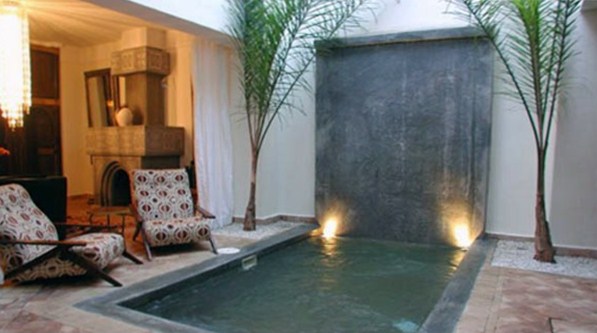 Trip Highlights
The souks: an Aladdin's cave treasure trove of sights and personalities!  We put a backpack-harness onto our daughter and let her stroll around, which she thought was great.
The night market in the medina: this cannot be missed as it's like nothing else I've ever seen. The square comes alive with food stalls where people sit at trellis tables and enjoy a variety of (usually grilled) food. The first night we went our daughter fell asleep in the stroller, and the second night she stayed up and enjoyed trying some french fries. The night markets are a bit of a challenge if your child is like ours and goes to sleep early, or prefers their cot to sleeping in the stroller but they are definitely worth the effort.
Open top bus tour: this is the same hop-on-hop-off tour that most cities offer, which is a great way to get your bearings, and allows you to get off when your little one gets restless (like ours!).
Hotel Mamounia: this hotel is only open to non-residents on week days, so we missed out on seeing it (we tried to go in on a Saturday), but from its description it's a tranquil paradise with spectacular gardens and a wealth of history, where you can have a cup of tea and escape from the dusty, hot, loud surroundings of Marrakech, which our tired bodies would have eagerly welcomed. We were very disappointed to have missed out.
Peppermint tea and lunch in a main square: peppermint tea is the drink to have in Marrakech as it's cooling and soothing in the heat. If you want to rest, take a seat in any main square and your child will be delighted by the acrobats, snake charmers, monkeys, sales people, musicians, and just regular locals who provide a rich tapestry of entertainment.
Bakeries: The bakeries are inspired by the French so sell delectable treats. Get a mixed box of petit pastries and nibble throughout the day. We frequented a popular little bakery in the heart of the souks which was clean and delicious!  
Quick Tips
Book a western-style hotel which has the comforts you need like carpeted rooms, modern bathrooms, travel cots, and grounds where your child can run around, as they will be in the stroller for most of the day when you're sightseeing (which we felt very guilty about). A comfortable home base always makes for a restful holiday when you're travelling with kids!
The days are sunny, but the nights are very cold – you are in the mountains afterall! Make sure you bring a blanket for your pram and appropriate clothing. If you are female, do not walk alone at night; the locals can be quite intimidating when you're by yourself.
Bargain bargain bargain! When shopping, offer at least half of what they're asking and stick to your price. They'll try not to, but will always eventually come down to your price. 
A portable DVD player or similar (e.g. iPad, multi-media tablet, etc) is a great investment for long journeys.
Bring a hat, sunscreen and sunglasses.
Definitely take advantage of free hotel transfers from the airport. It is a welcome relief after a long flight and reassuring in such a crazy city that your driver knows exactly which hotel to head for.
Pack some of your own baby food – we would not have been able to survive without the snacks and jars which we brought along with us. There are lots of stalls which sell dried fruits, but once we got them home we realised they were quite dirty and dusty and impossible to rinse. There is however a very big supermarket (Marjane Hypermarket) on the edge of town which is apparently incredible for all of your pre-packed needs. And you don't need to bargain at the check-out!  
Stock up on big bottles of water as soon as you arrive, as you cannot drink from the tap.
About