The iPad is a staple in our travel entertainment bag. In fact it's an entertainment staple even when we're not travelling. There are so many fantastic educational iPad apps for toddlers to play with, as well as interactive books. As users we're definitely spoilt for choice! A short while ago I wrote up a post on my 'Top 10 Favourite iPad Apps for Toddlers', and I think it's about time that this list is expanded. So here's a round-up of five more apps that keep my toddlers engaged. And do stay tuned because I have many more apps to recommend in the months to come. I've included links to the developers site rather than iTunes, as some of these apps are now also available on the Android market.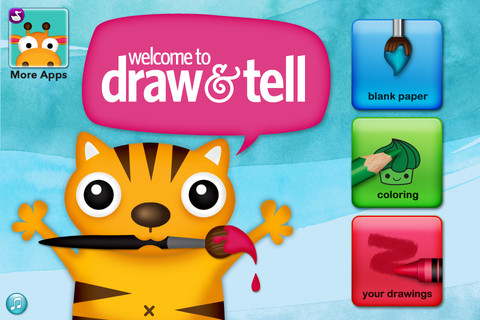 Draw & Tell is the brand new app from Duck Duck Moose, the creators of award winning educational apps for children. We've only had this app for a couple of days but already it's proving to be popular. More so than other drawing apps that we've had so far, probably due to the familiar Duck Duck Moose formula, design, music, characters and the general all around cuteness. You can draw and colour in with an array of materials (paints, pencils, crayons, stencils, patterns and stickers), and then record a voice over and tell a story about your drawing. You can even animate your story by moving the stickers around. All the artworks and stories can be saved so you can keep your masterpieces. Our 2 year old has had to even wrestle the iPad from me because I've been enjoying creating stories on it for her.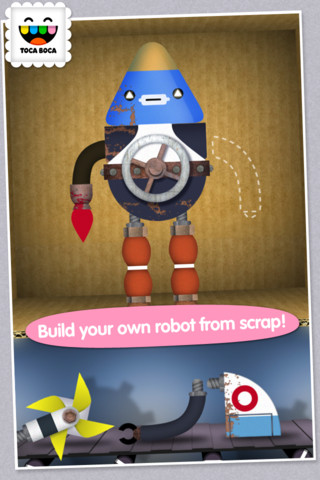 At only 99c Robot Lab is very good value. An easy game for a toddler to master and lots of fun! You build your own robots from pieces of scrap and then you get to play a short game and watch your tailor-made robot in action. This game helps build creativity and there are endless combinations to make, so lots of entertainment to boot.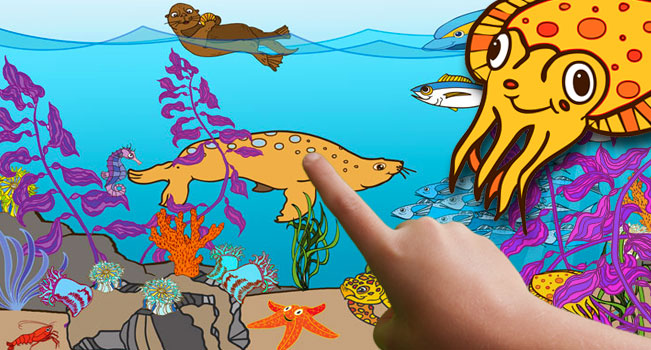 We all know how toddlers LOVE sticker books! The big benefit of Clicky Sticky is you don't end up with stickers all over the airplane seat, or your lounge at home! Great for the imagination, kids can build different scenes around the themes of ocean, aviation, space, dolls and safaris. The stickers can even be animated!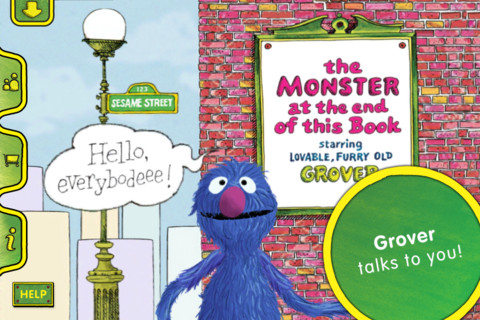 Do you remember this story? I certainly do, it was around when I was a kid. The Monster at the End of this Book is a Sesame Street classic that draw in kids and makes them feel a part of the story. Grover tries his best to stop the reader from turning the page and getting ever so closer to that 'monster' at the end of the book. Lots of interactive touch points to keep your toddler engaged. Plus it's a great story for learning to understand and overcome fear. Due to the popularity of this story in our household, we also downloaded the sequel 'Another Monster at the end of this book' which features Elmo alongside Grover.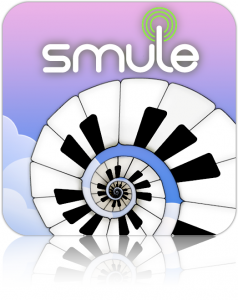 Magic Piano (by Smule)  is an app for all ages, but I find it particularly useful for entertaining younger toddlers and even babies. My 2 year old is no longer enthralled with this app, but my one year old certainly is! This is one of 2 apps (Peekabook Zoo being the other) that will distract him for a good few minutes. Magic Piano introduces kids to music in a novel way. One feature is that you can select a tune (ranging in complexity from Twinkle Twinkle to Beethoven's Für Elise or Moonlight Sonata) and tap along to the rain of light drops that represent the notes in the song. Kids learn about tempo by tapping these dots at the same time as they appear. Another feature is that you can invent your own tune by tapping anywhere on the screen to produce notes and chords. You can even connect with other users around the world to play an improvised duet!
About