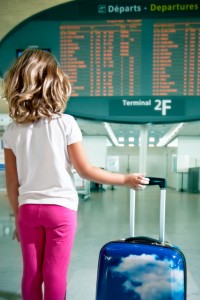 Navigating airport security with kids can cause 'AAAAARGH' moments in your life.  However, with a little planning and foresight you can avoid these moments. I've put together a list of helpful tips and strategies that I use whenever we travel, and especially when we travel internationally. Hopefully they can make the process a little smoother for you too!
Things to do in Advance:
Ring the airline well in advance with any general questions that you may have or meal requests and also to pre-book your seats. If you are travelling with a child under the age of two you can request the bulk head seat to make use of the sky cot and the additional room. Some airlines, such as British Airways, can provide a special seat for under 2s for long haul flights.

Familiarise yourself with baggage restrictions. Some airlines will allocate children under the age of 2 the same limit as you, whereas others will limit it to a much smaller amount such as 10kg.

When you are packing make sure your hand luggage is packed in a logical way and everything you require for the flight is accessible.

Find out what facilities are available at the airport you are travelling from. All airports will have baby change rooms but some also have nurseries and play areas in the departure lounge which can be a great way to tire out your small person before boarding a flight.

Plan what baby equipment you will be checking in at the baggage counter and what you will be taking to the departure gate. Most airlines will allow you to bring your stroller to the departure gate and take a car seat on board but you may choose to check these instead. I generally take my stroller to the gate as well as a sling, so my small person always has somewhere to rest during the pre-board wait. For more information on prams and aeroplanes click here.
At the Baggage Counter/ Check-in:
Arrive at the airport with plenty of time to spare – EVERYTHING takes longer with a little person on board!

Some airlines will you give preferential treatment when checking in with young children, such as ushering you to the front of a very long queue (Aaaah heaven!). However, this is not a sure thing so don't rely on this as a strategy.

Make sure all essential paperwork and documents are within arm's reach.

This is a good time to make use of your stroller, especially if your small person is sleeping. Airlines will always tag your stroller and if it comes in multiple pieces ask them to tag each piece. It is also a good idea to put a home-made tag on it as well.
Going Through Customs/ Security:
Look out for any fast-track services provided to families. Some airports, such as Dubai airport, will give you preferential treatment at customs and immigration points if you are pregnant or travelling with children.

Be prepared to put all your baby items through the x-ray machine, this includes car seats and strollers if they will fit. Larger items that do not fit will be inspected individually by security staff. If you are taking your stroller to the departure gate make sure all the pockets and baskets are completely empty, it will make packing it down a much smoother experience.

Even if your small person is asleep in the stroller, nearly all airports will ask you to take them out and walk them through the electronic scanners with you. Be prepared for this and my advice is to take your baby/toddler out of the stroller last of all.

Have your liquids already organised in clear plastic bags so it is easy for you to take them out for security inspection. Be prepared to taste any baby food or baby liquids that you may be carrying. For more information on flying with liquids click here.
Make sure your carry-on luggage is organised well and can be easily re-packed if pulled apart by customs. For a hand luggage check-list click here.
Hopefully these tips can help you navigate airport security with less stress.  You may even have an hour or 2 to spare in the departure lounge – so enjoy a leisurely browse or a relaxing meal.  Or you may wish to tire your small people out before the flight in a children's activity area that many airports now have.
About