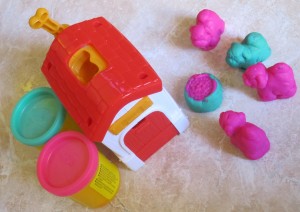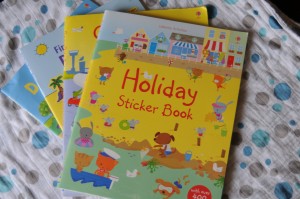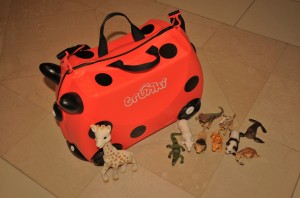 We've just arrived home from a fun filled two-week break on Malta. Prior to our departure I rummaged through the kids' toys looking for suitable items to take to keep them both entertained on the plane and for the duration of the trip. I thought I'd share with you the toys we took along on this particular journey.
For my 2 year old I took:
Trunki Suitcase – It's a carry-on suitcase that  can also be be ridden or dragged along.  We have Harley the Ladybug and it fits all of my daughter's (and son's) toys perfectly, plus there is always room for other essentials that might be needed during a flight.
Sticker Books – I am a big fan of sticker books, and I particularly like the Usborne sticker book series. They come with hundreds of stickers and they also have great themes. We took along the Dinosaurs and Around the World books on this trip. Sticker books have been a staple item in my travel entertainment bag since my daughter was one and now that she is a little older and understands their purpose, she can create her own (albeit highly creative) scenes.
iPad 2 – I must say this was the winner of this trip and particularly on the flight. Since the iPad 2 has arrived in our home and Miss M has realised the wonders that it beholds we actually have to hide it so that she doesn't play with it all the time. There are loads of fantastic educational apps for toddlers to play with, as well as interactive books. Mid-air it is a sanity saver and provides hours of entertainment. Watch this space for a great round-up of the apps that keep my toddler engaged.
Puppy Kennel (by Moon Dough) -This puppy kennel is ever so tiny, so it's very easy to pack and it provides hours of amusement. You also need to take along a small pot of moondough/play dough (you might even want to try making your own with natural dye). You place some dough in the top of the doghouse, turn the handle and hey presto! the kennel door opens and you have a little dog. Play dough even without the kennel is an easy toy to pack and toddlers love it.
Animal figurines – We have a large collection of Schleich animal figurines and these are something that my daughter plays with everyday. So without fail we always travel (if even to the supermarket) with an eclectic crew of creatures. A lion, tiger, panda bear, crocodile, dinosaur, kangaroo, seal, polar bear and giraffe accompanied us on this trip.
Toy cars – these are small and pack easily and most young kids love cars.
Favourite stuffed toy – This one is a given. Miss M has many favourites, but on this particular trip Cheeky the monkey was the chosen one.
Books – Another travel staple, we always travel with a handful of well-loved books and a new book for the flight.
My 4 month old is easy to entertain, he was happy with:
– His Sophie La Giraffe (who is called Arthur in our household)
– 2 favourite stuffed toys;
– A couple of baby books; and
– Watching his sister play with all of her toys!
About