One thing Dubai has in abundance is great shopping malls!  We're spoiled for choice when it comes to shopping and most malls also have great entertainment and activities for kids. Here is a quick round-up of some of the malls in Dubai that I particularly like and visit frequently as well as a list of what is available for kids to do at each of these locations:
Dubai Mall
 
Location: Downtown Dubai
My personal favourite, Dubai Mall. It's the largest mall in the world with over 1200 shops and over 160 eateries. It's centrally located in Downtown Dubai and is fairly close to a Metro station. There is a HUGE range of activities for kids here including: the Dubai Aquarium and Underwater Zoo, an Olympic size ice skating rink, SEGA Republic, Kidzania (an amazing world where kids get to play grown-ups), the Dancing Fountain, the Burj Khalifa 'At the Top' viewing platform, a large play structure in the Level 2 food court, the Kiddie Express train ride through the Grove and a state of the art cinema. My kids also like stopping by the flashing colours floor in Fashion Avenue.
If you are looking at shopping for kids, then much of level 2 is devoted to kids clothing and toys, including a Hamleys (London's famous toy store). The restaurants within the mall complex are child friendly and there are a number specifically aimed at the younger market, such as the 'Rainforest Café'. I like the Organic Café (because it has a little play section), Carluccio's and Forty Carrots, all of these place have good kids menus and are family friendly. There is also a big range to choose from in the food courts. Also, if you love coffee then Brunetti's (ground floor opposite the Aquarium) offers what I think is perhaps the best coffee in Dubai, then again maybe I'm biased being a Melbourne girl who once lived around the corner from the original Brunetti's in Carlton! Brunetti's is also very child friendly. On our recent visit our kids were given babyccinos and butter cookies without us even asking for them.
Another attraction very near to the mall is Souk Al Bahar, a modern interpretation of a traditional Middle Eastern market place, which is very nice to stroll through and there are a number of licensed restaurants within this complex. The level 3 restaurants here have amazing views of the fountains, though not all are suitable for a visit with kids.  However, one that we have found welcoming to younger kids earlier in the evening is Abd Al Wahab, a Lebanese restaurant that overlooks the fountains and (arguably) offers the best view of them all. 
Mall of the Emirates
 
Location: Al Barsha District
Mall of the Emirates is the 2nd largest mall in the city and is probably most famous for housing 'Ski Dubai', a large indoor snow resort, with loads of snow related activities for kids aged 3 and above. They also now have a colony of penguins in residence which I believe is causing controversy! This mall also has a Magic Planet centre (lots of rides, games, bumper cars and bowling), as well as a Vox Cinema. The Dubai Community Theatre and Arts Centre (DUCTAC) a not for profit creative centre is also located within the Mall of the Emirates complex. As well as having a library, DUCTAC run craft and performing arts classes for kids and adults. They also host theatre productions, music concerts and films, but you would need to check their schedule if you want something specifically for kids. For those wanting to shop, there is a huge array of stores for kiddie shopping, including a big toy store (The Toy Store). And if you are looking for a supermarket for everyday conveniences there is a enourmous Carrefour Hypermarket. There are also over 85 food outlets (including a food court) so plenty to choose from to satisfy the hungriest toddler. I find More Cafe to be a good option if you want to sit down and dine with your kids, they have plenty of high chairs and a decent kids menu. This mall is also directly on a Metro stop so it is very accessible, even in the hotter weather, as the walkway from metro to mall is air conditioned.
Wafi Mall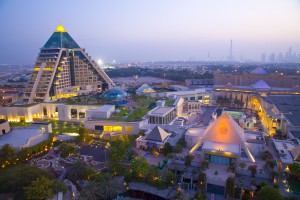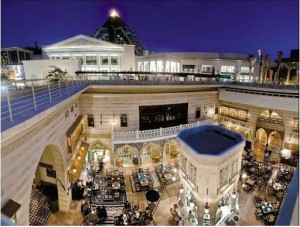 Location: Garhoud Rd
Now I must say from the outset that Wafi Mall is a bit of an odd one. It's on the Big Bus route, so does get a steady stream of tourists through it daily, yet it somehow always feels completely deserted in comparison to the other malls. Nevertheless there is a couple of things here that are worth a look. This mall has an Ancient Egypt theme, including a pyramid (a very visible landmark on the Dubai cityscape). The architecture alone can keep you intrigued and my kids love looking at the colourful glass pyramid from the inside. There is also a light and sound show called 'Return of the Pharaohs', that is on every evening at 9.30pm. Also one thing definitely worth checking out is the Khan Murjan souk and restaurant. The souk has over 150 shops and the setting is exquisite. As for the Khan Murjan restaurant, it is amazing and perhaps my favourite open air courtyard in Dubai. If you're looking for a more authentic Arabic experience a visit here is definitely worth considering. The restaurant is at the centre of the souk and has amazing Arabic architecture. There is often live musical entertainment on traditional instruments and the place has a lovely smell of spice in the air – the food is pretty tasty as well. It's also very welcoming to families, though I feel the need to mention that it is also a shisha courtyard, so if you don't want your children around shisha smoke at all then it's probably not the place to go. I'm not a fan of my kids being too close to shisha so if we visit restaurants that also serve shisha we generally go earlier in the day/evening and when the restaurant is not very crowded. Khan Murjan is an open air restaurant so it is possible not to be bothered by the shisha. 
Another secret perk to Wafi: if you're visiting Dubai during December this mall has the best Santa's grotto in Dubai!
Mirdif City Centre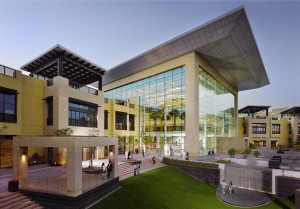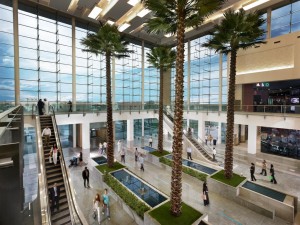 Location: Mirdif and very near to Dubai International Airport
As a resident of Dubai I particularly enjoy Mirdif City Centre as it has superb entertainment for kids as well as very decent shopping. Kids activities include: Little Explorers (education and entertainment zone for 2 – 7 year olds); iFly Dubai (yes you can learn to skydive indoors!); Aqua Play (rides and water based activities); Sky Trail (an indoor rock climbing facility for older kids); Soccer Circus Dubai; Yalla! Bowling; Magic Planet (loads of rides and games, as well as in my opinion one of the best play structures for toddlers in Dubai) and of course a cinema. Mirdif has over 400 stores, including a Carrefour Hypermarket. There are plenty of shops dedicated to kids items – lots of big brand clothing stores, as well as a Hamleys toy store and an Early Learning Centre. For eating, there are 2 food courts plus numerous restaurants to choose from.
Festival Centre
 
Location: Festival City, on the banks of Dubai Creek and also close to Dubai International Airport. 
There are over 370 shops (including biggies such as a Ikea and a Hyperpanda Supermarket) and 90+ eateries at Festival Centre. Kids entertainment includes a cinema, bowling and a big play centre on the ground floor (situated under the large Toys R Us). Festival Centre also hosts many events that are family related, here is a link to their upcoming entertainment schedule. Another nice thing to do here is stroll along the promenade and look at the impressive yachts at the Marina. There are plenty of places to eat, especially around the promenade. One restaurant worth mentioning is Jamie Oliver's establishment 'Jamie's Italian'.  It has a great kids menu and we've always been made to feel welcome even when there has been a pack of toddlers in our company.  
Mercato

Location: Jumeirah
Mercato is a small mall in comparison to the others mentioned and there isn't a great deal of activities for kids to do here (there is a cinema and small Fun City), but I think this mall still warrants a little mention due to its unique design. It's designed to look like an Italian Renaissance market town, so it's kind of like visiting Italy (but in Dubai)! Worth a look if you're curious and it's actually a comfortable sized mall, with good brands and a decent sized Spinneys supermarket.
Of course I haven't been able to cover all the malls in Dubai (it is the city of Malls afterall!), so if you have a favourite mall that isn't covered or additional tips for navigating the ones mentioned above I'd love to hear from you!
* Photo credit: Photos are from the respective mall's website
About