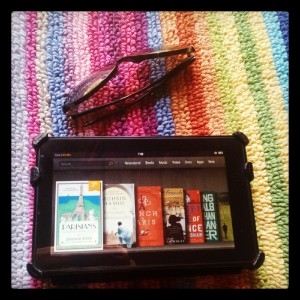 Well it has certainly been a long hot summer. We've spent part of our summer in New York and Canada, and for the rest of the time we've been in Dubai where the daily temperatures have been soaring in the high 40s (104 – 118 F). I've had some time out from my blog in recent weeks, enjoying our family travel uninterrupted, as well as just spending quality time on a daily basis with the kids (mostly by the pool). Oh yes, I can also blame my kindle a little for my absence on the blog, in fact I can probably blame my kindle A LOT. I generally try to write at night once my toddlers have been tucked into bed, but rather than write I have been reading and I have devoured 16 books since the beginning of July. I've always been an enthusiastic reader, but in years gone by I haven't had the opportunity to read as much as I'd like and I must say I've thoroughly enjoyed re-kindling (no pun intended) this passion.
I've always loved reading about other places and I got onto a bit of a Parisian theme in my literary journey, which has really sparked an interest in travelling to this city again. Some of the titles that I have thoroughly enjoyed include:
A Moveable Feast – Ernest Hemingway
Parisians: An Adventure History of Paris – Graham Robb
The Secret Life of France – Lucy Wadham
Almost French – Sarah Turnbull
Lunch in Paris – Elizabeth Bard
Some other titles that aren't necessarily travel narratives but have kept me captivated over the summer are:
Moth Smoke – Mohsin Hamid
The Lemon Tree – Sandy Tolan
Eating Animals – Jonathan Safran Foer
The Hunger Games Trilogy – Suzanne Collins
Anyway, I digress, this is not a book blog, well at least it never used to be. I think it's time to give the Kindle a break and return to my blog feeling renewed and ready for the months ahead!
About