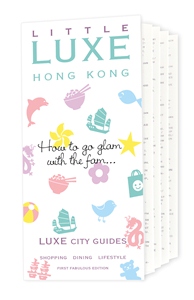 I'm a big fan of LUXE City Guides. They're pocket-sized and jam-packed full of priceless information, and for a travel guide they're even entertaining to read! That's why I was excited to discover that LUXE City Guides and LittleStepsAsia.com (the go-to online resource for parents in Hong Kong) have partnered to launch 'Little LUXE', a brand new series of city guides designed for families on the go. 
The first title of the series is Little LUXE Hong Kong. Written by resident editors with families, this Little Luxe edition is 100 per cent family focused and has great insider tips on where to stay, where to eat, what to see and where to shop! So if you have a family trip planned to Hong Kong (or you live in this mile-a-minute city), don't forget to take along this little pocket-sized companion for the low down on: the finest child friendly hotels; quick and easy eats or fine diners that families will love; the best kids activities from museums to beaches; and where to get the cutest outfits, must-have toys and baby essentials. Recommendations and activities are categorized by area so it makes planning your trip super easy.
The next city is also soon to be launched, so keep an eye out for Little LUXE Singapore!
About