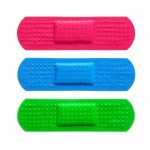 One of the items that I ALWAYS travel with is a medical kit that is stocked to deal with kiddie emergencies. You can either purchase a baby first-aid travel kit or you can purchase an empty medical first aid pouch and put together your very own kiddie first aid travel kit. I prefer the latter option. I keep my first aid kit constantly stocked and stored away when we're not travelling, that way when we travel I don't need to run around collecting all the necessary bits and pieces. The only thing I do is check that all the supplies are still stocked and that nothing has expired. My first-aid kit has:
Kiddie band-aids/plasters
Sterile gauze swabs for cleaning wounds
Small roll of medical tape
Sterile gauze dressing
Small bandage
Digital Thermometer
Re-hydration tablets (in the event of dehydration caused by gastro and vomiting)
Sachets of baby paracetamol & baby ibuprofen
Antiseptic cream
Tube of calamine lotion cream (for bites and general skin irritation)
Saline drops (you can purchase the one-time individual droppers, I normally pack 4)
Small instant ice pack (great for reducing swelling and fevers)
Antiseptic wipes (an easy way to clean cuts and grazes)
Small pair of scissors
Depending on the specific medical circumstances of your child you may also need to bring along any prescription items as necessary, including vaccination medication (such as antimalarial).  Make sure you check with your GP the vaccinations your child may need for your trip. It is best to obtain this advice 6-8 weeks prior to travelling as some vaccinations require more than one dose. For a great overview of travel vaccination requirements check out the Travel Doctor or National Travel Health Network & Centre.
You can also throw in a couple of stickers to award to your child for bravery, like these. It can stop the tears!
About